Showa Resistance System
RESISTANCE SYSTEM
By applying various levels of resistance at the resistance type distribution junctions or lubrication points, oil from the pump unit can be divided and discharged proportionally.
Through the selection of the pump unit and distribution equipment, oil can be discharged either intermittently or continuously at lubrication points.
Unlike the volumetric system, which allows specific volumes of oil to be discharged at lubrication points, the resistance type system is unable to measure exact volumes for discharge past the pump unit.
However, the resistance type system enables continuous lubrication, which has an added benefit of a cooling effect, making this system ideal where heat displacement is also a requirement along with general lubrication.
Another differing factor is, the volumetric system will only discharge the set capacity of oil from the pistons and will require the pump unit to halt and displace internal pressure before any more oil can be discharged at lubrication points.
In comparison, oil will continuously be discharged from the lubrication points in the resistance system, as long as the pump unit continues to operate.
As such, more emphasis is placed on the output capacity and control of the pump unit, in regards to discharge volumes at certain lubrication points.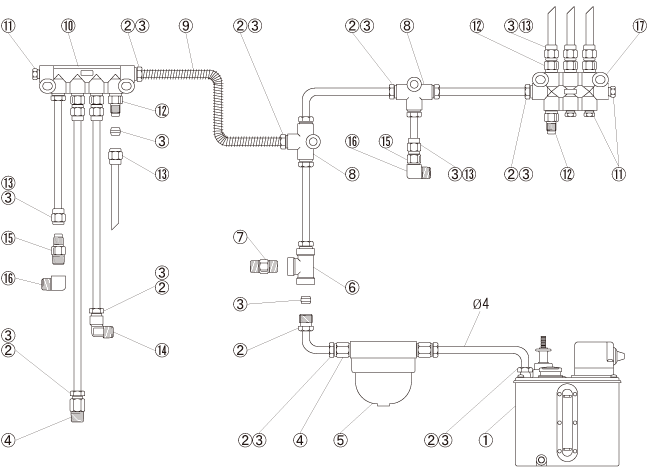 | No. | Code | Description |
| --- | --- | --- |
| 1 | - PUMP - | Resistance Type |
| 2 | PA4 | Bushing |
| 3 | PB4 | Sleeve |
| 4 | PD4 | Nipple |
| 5 | LF01N | Line Filter |
| 6 | JHD3 | Junction Head |
| 7 | PTT | Flow Proper Unit |
| 8 | JD3 | Junction |
| 9 | FHC420 | Flexible Hose |
| No. | Code | Description |
| --- | --- | --- |
| 10 | DB6D | Dester Unit |
| 11 | PG004 | Sealing Plug |
| 12 | PSS | Flow Proper Unit |
| 13 | PAN4 | Proper Nut (Bushing) |
| 14 | PHD4 | Elbow |
| 15 | PST | Flow Proper Unit |
| 16 | PI1 | Elbow |
| 17 | DA8D | Dester Unit |